Children's Books for Kids Who Care
encouraging a more positive approach worldwide to protect them, as they do play a significant role in our survival.
I look forward to researching and writing about many more endangered species spreading awareness of their value and
Want to know some interesting stuff about sharks?
A Super Quick read, bringing together proven facts and information then presenting them in a unique, fun and
easy-to-understand manner.
Introducing Book #1 in the

Endangered Species




Series
SHARKS: OCEAN RESCUE SQUAD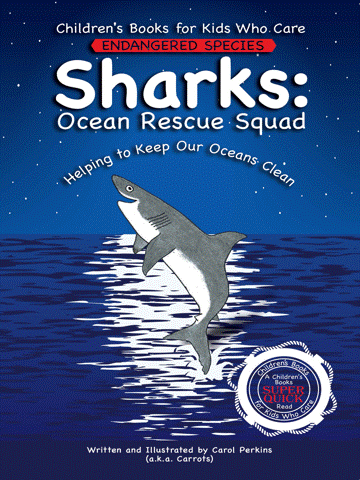 Great for kids...actually anyone who would like to learn about endangered species and how they contribute to our environment, but may not have the time nor desire to read large amounts of material with complicated words and concepts.
​
Also meant to inspire conversation and discussion on why endangered species need to be protected.
Every day we learn of animals, birds, insects and plants that are becoming endangered or are facing extinction.
​
In order to maintain a healthy balance of life and environment on our planet, we need all species to survive.
"I enjoyed reading this book with my 2 children. For such a short read, we learned a lot! The drawings really help to remember the information and make the reading fun. I am motivated to learn more about what we can do to help slow the fishing industry. This would be a fun book to help teachers generate conversation in the classroom around our current environmental issues."
​
Diana, age 40, software developer
"The drawings help me to understand better about how sharks are endangered species, which I never thought about before. The length of the book is perfect for giving enough information to remember and understand. I'd recommend this book to all my friends."
​
Millie, age 12
"All my friends should read this book. Carrots is funny. I learned a lot about sharks. It doesn't make sense that we use sharks for making furniture and sandpaper. Shark finning is disgusting."
​
Andy, age 9
10% of proceeds from the sale of this book will be donated toward shark conservation.
Carol Perkins has had a passion for writing for years, and it clearly shows in this book. She has taken a topic that kids are passionate about and made it into an easy to read book that makes learning about sharks fun. Her writing connects to children at a level that is easy to understand and keeps them engaged right to the end. As a family we enjoyed reading and learning about sharks and the environment, and it created continuous conversation even after we had finished reading it. We look forward to reading more books by Carol and supporting her desire to write. We know that the next book will be just as engaging.
​
Heather, Dan and Ben A.
​Well! I've got both kids to finish reading the book! Nathan is 12 and it was a little young for him of course but he did provide good feedback and that it would be perfect for someone Madeline's age. He also thought it would be very educational. He suggested a cartoon as well.....
Madeline was the best! She thought this was appropriate for her age and liked that there was some challenging words in it. So appropriate for kids 7 to 9. She also enjoyed the artwork! I asked her to provide criticism, good and bad but she really did enjoy it. It was an honest good review from her!
​
Paul W.
Would you like to know more?
Just send me a note and I'll answer all your questions.
Heading 6