Children's Books for Kids Who Care
I look forward to researching and writing about many more endangered species, spreading awareness of their value and
encouraging a more positive approach worldwide to protect them, as they do play a significant role in our survival.
Carrots makes it fun to learn a lot of information very quickly.
Educational books for children, encouraging them to learn more about how the loss of various species in our world affects the health of our planet and their future.
Parents, teachers, and trusted influencers may use these books to help spread awareness of how we need to protect all species on our planet that contribute to its health and survival.
A Super Quick read, bringing together proven facts and information then presenting them in a unique, fun and
easy-to-understand manner.
I love to laugh and have fun and that's how I learn and remember the best.
Want to know some interesting stuff about sharks?
Introducing Book #1 in the

Endangered Species




Series
SHARKS: OCEAN RESCUE SQUAD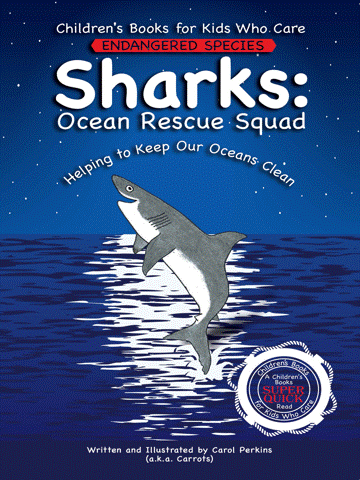 10% of proceeds from the sale of this book will be donated toward shark conservation.
Great for kids...actually anyone who would like to learn about endangered species and how they contribute to our environment, but may not have the time nor desire to read large amounts of material with complicated words and concepts.
​
Also meant to inspire conversation and discussion on why endangered species need to be protected.
Every day we learn of animals, birds, insects and plants that are becoming endangered or are facing extinction.
​
In order to maintain a healthy balance of life and environment on our planet, we need all species to survive.
Would you like to know more?
Just send me a note and I'll answer all your questions.
Heading 6